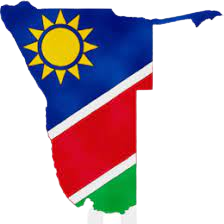 Namibia is found in the southern part of Africa and borders the Atlantic Ocean to the west, Zambia and Angola to the north, Botswana to the east and South Africa to the south and east.
It derives its name from the Namid desert, the oldest desert in the world. The name Namib itself is of Nama origin and means "vast place".
The German Empire established rule over most of Namibia in 1884 and called it German South-West Africa. Between 1904 and 1908 the Germans perpetrated a genocide against the Herero and Nama people. The Germans rule ultimately ended in 1915 when they were defeated by South African forces(part of the British Empire) who ruled over the territory until Namibia gained its independence in 1990.
In 2013, Bloomberg named Namibia the top emerging market economy in Africa and the 13th best in the world. Only four African countries made the Top 20 with Namibia being rated ahead of Morocco (19th), South Africa (15th) and Zambia (14th). Namibia is also classified as an Upper Middle-Income country by the World Bank and ranks 87th out of 185 economies in terms of ease of doing business.
Namibia has the second-lowest population density of any sovereign country, after Mongolia. In 2017 there were on average 3.08 people per km2.
The majority of the Namibian population are Bantu speaking mostly of the Ovambo ethnicity which forms half of the population. Other Bantu ethnic groups are the Herero and Himba people, who speak a similar language, and the Damara, who speak the same "click" language as the Nama. The country is also inhabited by the Khoisans such as the Nama and San people, the Afrikaner and the descendants of refugees from Angola.
Join the Lughayangu Community!