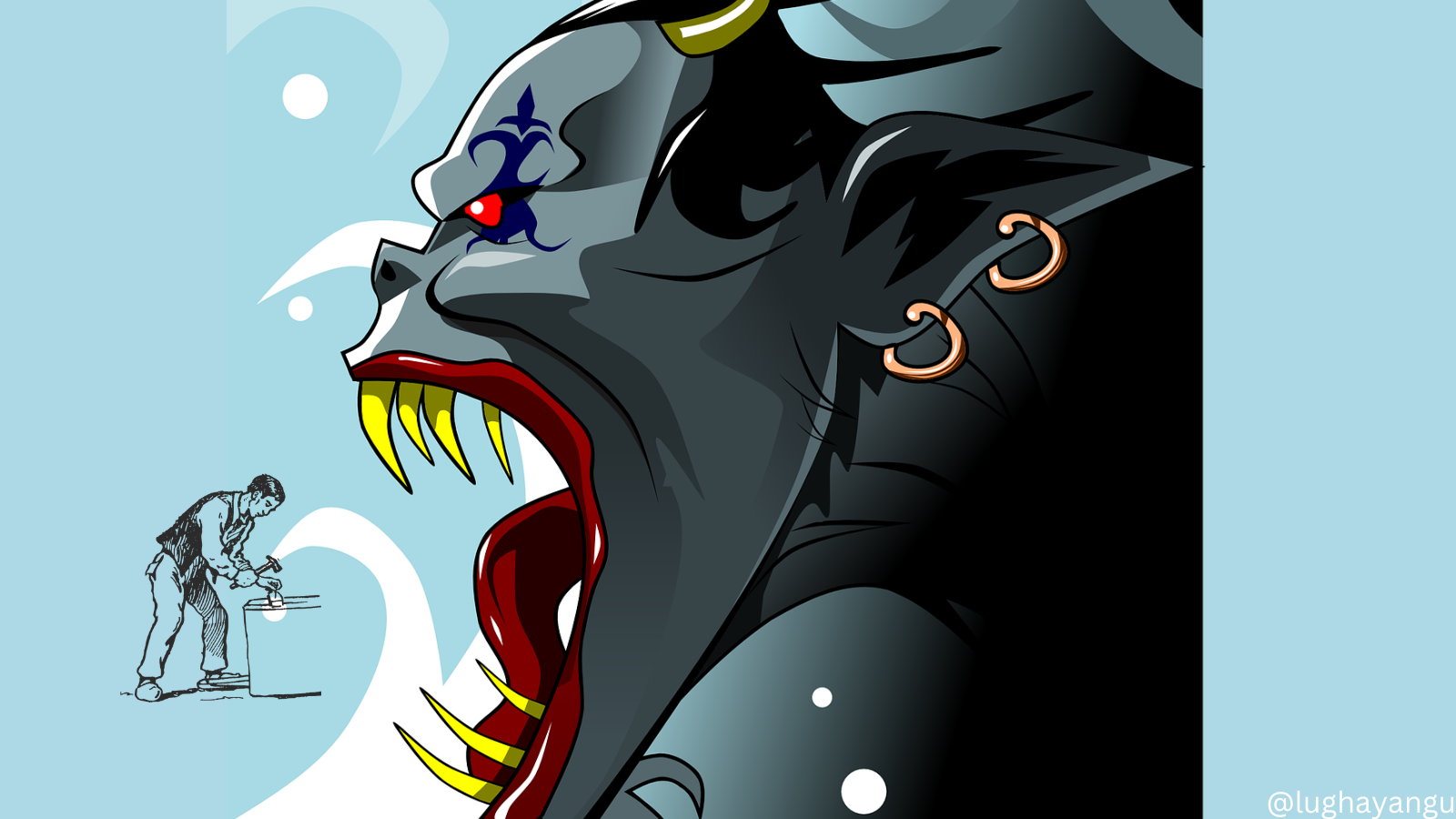 Click here for the English translation of the story.
Tene tene múno-rí, híndí ya marimú ma nyakondo búrúriní wa Gíkúyú-rí,ní kwarí múndú warí mwaki wa nýumba wetagwo Gategi. Gategi arí múndú mwíkeneri, muma andú, mwínyihia na wí kío ta njúkí. Úraihu wake warí wa gatagatí na arí múirú ta mbiro. Managí na icanjama ciake wírainí ní ciatumíte agíe ngumo ta ndegwa ndúi. Níngí úkinyaníru wa wíra wake na úgemu waguo níwamúmenyithanítie matúrainí maingí búrúriní wa múgíkúyú.
Gategi arí wa ndebe ímwe na múka etagúo Nyagatui. Nyagatui ari ngatha na kírorewa. Aciarítwo e wa múmwe na ithe, Múrimúthi, arí gítang'a na múthuri wí gatú itúrainí ría Ndoboro. Mahiú make marí ngiri na ngiri na ngúndú ciake itiarí múthia.
Gategi nake marí ngía kuma uyinyiní wake na warí úndú wa magegania gwítíkírwo ní mbarí ya Múrimúthi ahikie múirítu wao. Gweciragírio hihi níundú wa kíheo kía waki giatúmíte Gategi etíkíríke.
Múcií gwa Gategi kwarí gatagíria kuma haría nyina akíirwo ní ithe. Gitúmi ní tondú Gategi niendaga kwíikaria na agíe na warií wa gútheremia mahiú. Ningí tondu múka arí mwana wí kío, nímarímíte ngúndú nene cia mboco, njahi, mwere, ikwa, múhía na úgímbí. Magetha mao makoragwo makíri maingí na nímakíte maúmbi manana ma irio. Ningí magagítuíka nío makírí endia a irio hndí ya ng'aragu.
Úndú úría wakírí wa kíeha ní atí, onakorwo Gategi arí múrathime uguorí, ndaigana gúkorwo agíte na mwana ona thengia ya gúkorwo ahikanitie míaka kenda. Niatúríte athinngatítwo ní aciari ake agíe mútumia úngi amúrehere mbeu no ndaigana gwíka úguo.
Na nígwakinyire atí híndí ímwe Gategi ní etirwo itúrainí ría Koigi agake makúmbi kuona atí itúra ríu ní ríagíte na búthi múingí wa mboco na njahí. Ríarí ihinda ría thutha wa magetha kwoguo Gategi arí na mahinda ma kwíheana kúri waki. Nyagatui akíohera múrúme mírigo níguo atume thabarí. Magícigíríra ndigiriní kíroko tene ruoro rúgítema, makímumunyana na kuganíra úhoro. Kuma gwake nginya Koigi harí handú ha thabarí ya thikú inya na athiaga akíraragíríra kwa mbarí ciao.
Gategi akinya Koigi ní amúkírirwo ní ene itúra na ndúhiú nene na akíheo úikaro kwa múthuri wetagwo Ndeto. Ota ritwa ríake, múndú úyu arí mwaria ongiya agatuo múthonji ní aruna aake. Wíra wakírí múingí múno onginya atí gategi níaninire mwaka na nuthu kúu Koigi.
Mahinda mau nake Nyagatui agíkorúo atí niohete nda onakorwo matiamenyete uría gwatarií gategi akiuma múcií. Nyagatui níerígagíríraga atí hihi múrúme niagakorwo acokekete ihinda ría kúheo mwana ríakinya.
Mahinda ma kúheo mwana magíkinya Gategi arí o wírainí wake na ndaigana kúmenya. Ruo rwa kúrúmwo rakinyíríire Nyagatui útukú gatagatí. Arí wiki atarí na múmúteithia. Níundú wa kíríro kía ruo-rí, irimú ria nyakondo ríkíigua múndú úkuríra na kígi. Rígíkuhíriria ríkímenya atí kana ní ríkwígatira kanyamú ringíruma. Ríría ríonire atí ní múndú wanja úkúgía mwana-rí, rígikena múno. Ríkííra na ngoro atíri, "ngúmúciarithia na ndímúhiuhírie. Agía na hinya, merie kana njoke ndímúríe."
Nyagatui agígíciarithio ní irimú, akírigithatha kahíi. Níngí akíhiuhírio nírio thikú mugwanja. Na ríkímuhiúhíria ríkainaga atírí
"Agía hinya ndíkamerie, ningí ndímúyue thubu."
Nyagatui akínyitwo ní kieha kíingí kuona atí marí úgwatiní wa gíkuú. Agítua mwana wake Mwíhoko kuona tí níeírire na ngoro atírí,
"ndaga mwhíhoko ngúkua ndírí o muoyo."
Múthi wa kanana wakinya, rúciní Nyagatui agiota riúa na múriú-rí, ndutura íkíumba múbaríkiní warí nja ya thingira wa Gategi. Nayo ikíambia kúina íkiugaga atíri,
Múndú múka úyu,
Racúria maitho,
Ningí bara wone,
No ndukú inya
Múrúguo amerio
Kuoguo ndúma
Ngere aría marí úturi mehíke
Nyagatui agithaitha ndutura íyo ímuteithie. Akímitaríria kúría múrúme arí. Ndutura íkímwíra atírí,
"níngúgúteithia, namo maríhi makwa ní atí maciaro mothe ma múbaríki úyú ní makwa matúkú makwa mothe."
Nyagatui akímíra atírí, "íí noguo."
Ndutura íkíúmbúka íkírora itherero kúrí Gategi kúmúmenyithia atí múka aciarithítio na akahiúhírio ní irimú. Múthenya úyú ungí mathaa ma kíroko íkíumba igúrú ría thingira kúría Gategi akomaga. Íkígúthúka na múgambo múnene kúna íkíinaga atírí,
Múturi úgútura-í
Cangarara-íca
Turatura na ihenya-í
Cangarara-íca
Múkaguo aciarithirio ní irimú-í
Cangarara-íca
Gategi agíúkíra akígegeara kúigua nyoni íkúina. Akiuma nja kúmíng'etia nígetha ekíre úira. Nayo yamuona igícokera rúímbo oríngí íkiuga,
Múturi úgútura-í
Cangarara-íca
Turatura na ihenya-í
Cangarara-íca
Múkaguo aciarithirio ní irimú-í
Cangarara-íca
Gategi akímenya níwe múheo wa úhoro. Akiuma na ihenya agíthií kúri Ndeto, úría wamúnyitíte úgeni na akamúhe úikaro. Akímútaríria úría kwahana na akímwíhoya arekwo aumagare ethiíre níguo one kana hihi ahota kuhonokia muoyo wa múka na múriú. Ndeto ndaigana kúmúiga no kúmúhinyiríria ehíke maí matanaitíka.
Mahinda maíra Gategi aikaríte itúra ría Koigi, níagíte na mahiú maingí kuona atí nímo marí múcara wake. Namo marí ng'ombe magana merí, ng'ondu ngiri ímwe, mbúri ngiri igírí na ndigiri mírongo kenda.
Gategi akíhúra mahiú make akiambia rúgendo rwa kúinúka. Na arí njirainí-rí ndutura íkímúrúmíríra. Nayo igacokera rwímbo rúría íkainaga atírí,
Múturi úgútura-í
Cangarara-íca
Turatura na ihenya-í
Cangarara-íca
Múkaguo aciarithirio ní irimú-í
Cangarara-íca
Nake gategi aigua úgúo, agakíríríria kwíhíka narí akinye gatene. Nake níethaíte na rúhiú rwa njora na itimú ría mwenjerere. Níngí akííra atírí,
"Ndíingíra na múcií mathaa ma míaraho irimú rí toro ndíríthece ngoro na itimú."
Thutha wa thabarí ya thikú ithatú, na múthí úría irimú riararírie kúmeria Mwíhoko, múrú wa Gategi na Nyagatui rí, Gategi agíkinya atongoretio ní mahíu make. Namo m ari mathaa ma húiní maira makíngíra. Ningí akaiguaga múraramo ta wa múrúthi úkiuma thingirainí wake. Akímenya atí ní irimú ríkúng'orota. agicema kahora akíhingúra rígí wa thingira wake. Agíkora irimú iraya take maita matatú ningí ríkarama take maita mana. Narío ríakomete ríroretie nda na igúrú.
Akímenya atí gútirí gúte marígu, akíoya itimú ríake na igúrú akíritheca gíthúri. Itímú ríkíingira ongiya ngoro. Narío írimú rígíkira ki rígítuíkana. Gategi ona atí niríakua, agíteng'era kúría múka arí akíríraga gúkú maithori makímuitíka. Akíhímbíria múka na múriú aiyúirwo ní maithori ma gikeno. Ningí agícúnga múka úhoro níúndú wa gúikara gwake.
Ndutura nayo íkúmba múbaríkiní na kuma híndí ío ígítúra íríaga mbaíki itarí múmíúria.
Karúgano gakwa gathiríra o hau.
Join the Lughayangu Community!