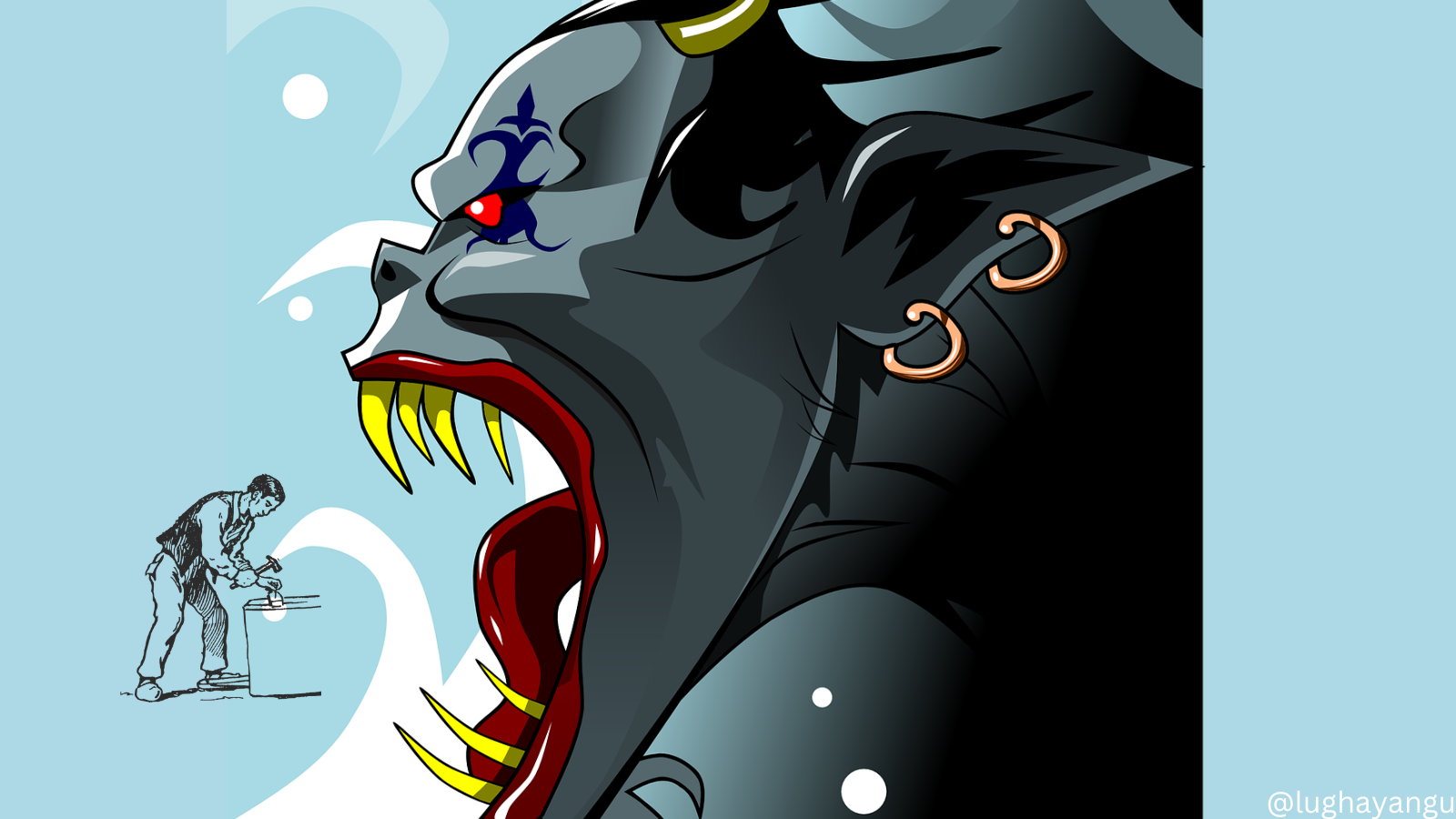 The Kikuyu folktales are told to young children to install morality, discipline, knowledge and wisdom. The audience responds to every sentence during the narration with "ííthaa". It is like 'mh' or nodding in agreement.
The characters chosen depict a distinct character with the wages at the end of the story.
The characters and their traits:
| Character | Trait |
| --- | --- |
| Ogre | Evil |
| Hare | cunningness |
| Hyena | greed/ stupidity |
| Lion | bravery/ leadership |
I have juxtaposed the tale below in Kikuyu and English. The translation is direct and paragraph by paragraph. The intention is to let the leader who may not be conversant with Kikuyu follow the flow and learn the Kikuyu language.
Click here for the original Kikuyu version.
Once upon a time, when there were ogres and giants in the Kikuyu land, there was a carpenter named Gategi. He was a man of medium height, dark-skinned. He was a jovial man, humble in his ways and very hardworking. His nature of cracking jokes and unequalled sense of humour made him famous. The perfectness of his skilful trade made him known far and wide in the land.
Gategi was monogamous and married to one Nyagatui. Nyagatui was a beauty of her days. She was the only child of her father, Murimuthi, a wealthy man in the region of Ndoboro. His livestock was in thousands, and he owned thousands of acres.
Gategi came from a humble background, and it was seen as a miracle him marryingNyagatui. Gategi's hardworking nature was believed to have worn the hearts of Nyagatui's kith and kin.
Gategi built his home far from his mother's homestead because he wanted a quiet life and enough pastures for his livestock. In addition, since his wife was very hardworking, they had large farms of red beans, black beans, sorghum and millet. Their harvest was always huge, and they had built many granaries for storage. They become the sole suppliers of food during famine and drought.
The unfortunate thing about Gategi was that even though mightily blessed, he was without a child. He had been married for nine years but sorrowfully childless. His parents always encouraged him to get a second wife, but he consistently refuted the idea.
And it came to pass that one day, Gategi was invited to the region of Koigi to build granaries. The region had had massive harvests of red and black beans and desperately needed storage. It was a time after he had harvested; therefore, he could give himself out to carpentry works. Nyagatui sandaled the donkeys with food and tools and kissed and bade him farewell. It was a four-day journey. He was spending the nights in his relatives' homes.
Gategi arrived in Koigi on the fourth day and was welcomed with jubilations. He was hosted by a man called Ndeto. Ndeto was very talkative and nicknamed wordy by his friends. Gategi's plate was full, and he stayed in Koigi for one and a half years.
Upon his departure, Nyagatui realized she had conceived. She hoped that her husband would be back before her days were due.
When the days came, Gategi did not know of the blessing that had befallen them. He continued with his trade, as it was very rewarding.
Labour pains came upon Nyagatui, who was alone without a midwife. Her cries attracted an ogre, and it came to investigate the matter, trying to see if it would be lucky to get a meal. When it realized it was a woman delivering a child, it smiled and said in its heart, "I will assist her and feed her, and when she recovers, I will swallow the child and then eat her."
So the ogre became the midwife, and she begot a firstborn son. The ogre attended to her for seven days. And as it attended to her, it would sing, "when she recovers, I will swallow the child and then eat her."
Sorrow befell Nyagatui, for she realized they were staring at cruel destruction. She named the boy Hope as she said in her heart, "if I lose hope, I will be a walking corpse."
On the eighth day, as she was basking on the son in the morning, a dove perched on a castor oil tree by Gategi's hut. The dove sang, saying
You woman,
Open your eyes,
Look and see,
in four days,
Your son will be swallowed,
Therefore send me a quick,
And tell the carpenter to return
She beseeched the dove to help her. She gave the direction to her Koigi, where her husband was. The dove replied, "I will go, and my wages shall be the castor oil seeds on this tree all the days of my life." she agreed with the terms, and the dove left.
The dove flew towards Koigi to deliver the message to Gategi. To let him know that his wife's midwife was an ogre. The following day early in the morning, the dove perched on the roof of the hut where Gategi abode. With a loud voice, it sang, saying.
Oh, working carpenter,
Shine, shine, shine,
Finish your trade fast,
Shine, shine, shine,
An ogre midwifed your wife,
Shine, shine, shine,
Gategi arose with amazement upon hearing a bird singing in his language. He came out of the house to see what it was. When the dove saw him, it sang again, saying,
Oh, working carpenter,
Shine, shine, shine,
Finish your trade fast,
Shine, shine, shine,
An ogre midwifed your wife,
Shine, shine, shine,
Gategi decoded the message and realized he was the intended recipient. He quickly went to his host, Mr Ndeto, to let him know the turn of events. He besieged him to let him return home to see if he could save his family from the imminent slaughter. Ndeto couldn't hold him any longer but allowed him to leave immediately. He urged him to hurry home and wished him well.
In the days of his trade at Koigi, Gategi had accumulated a lot of livestock as they were his wages. He had two hundred heads of cattle, one thousand sheep, two thousand goats and ninety donkeys.
He took his livestock and started the long journey home. The dove followed him closely. Constantly repeated the song saying,
Oh, working carpenter,
Shine, shine, shine,
Finish your trade fast,
Shine, shine, shine,
An ogre midwifed your wife,
Shine, shine, shine,
He was armed with a sword and a spear. He would increase the speed when he heard the song, wishing he could arrive in time. He hoped in his heart, "If only I could arrive home in the afternoon heat and find the ogre sleeping. I will spear his heart."
On the fourth day, the day the ogre was to swallow Hope, the son of Gategi and Nyagatui, Gategi arrived home. Before him was his livestock and in him was rage and furry. With his heart beating fast, his mind focused on smiting the ogre. It was at twilight, and he was welcomed by a roar like a lion coming from his hut. He realized that the ogre was snoring. He tiptoed into his hut. He found a giant three times his height and its waist three times his. The ogre slept with its stomach up.
He did not waste time. He lifted his spear and pierced it into his chest, striking the heart. Silent and instant death. On seeing it was dead, he ran to his wife sobbing, tears of joy running down his ruddy face. He tearfully embraced his son. He apologized to his wife for his delay.
The dove rested on the castor oil tree, built its nest and lived there all its days.
The end of my story.
Join the Lughayangu Community!