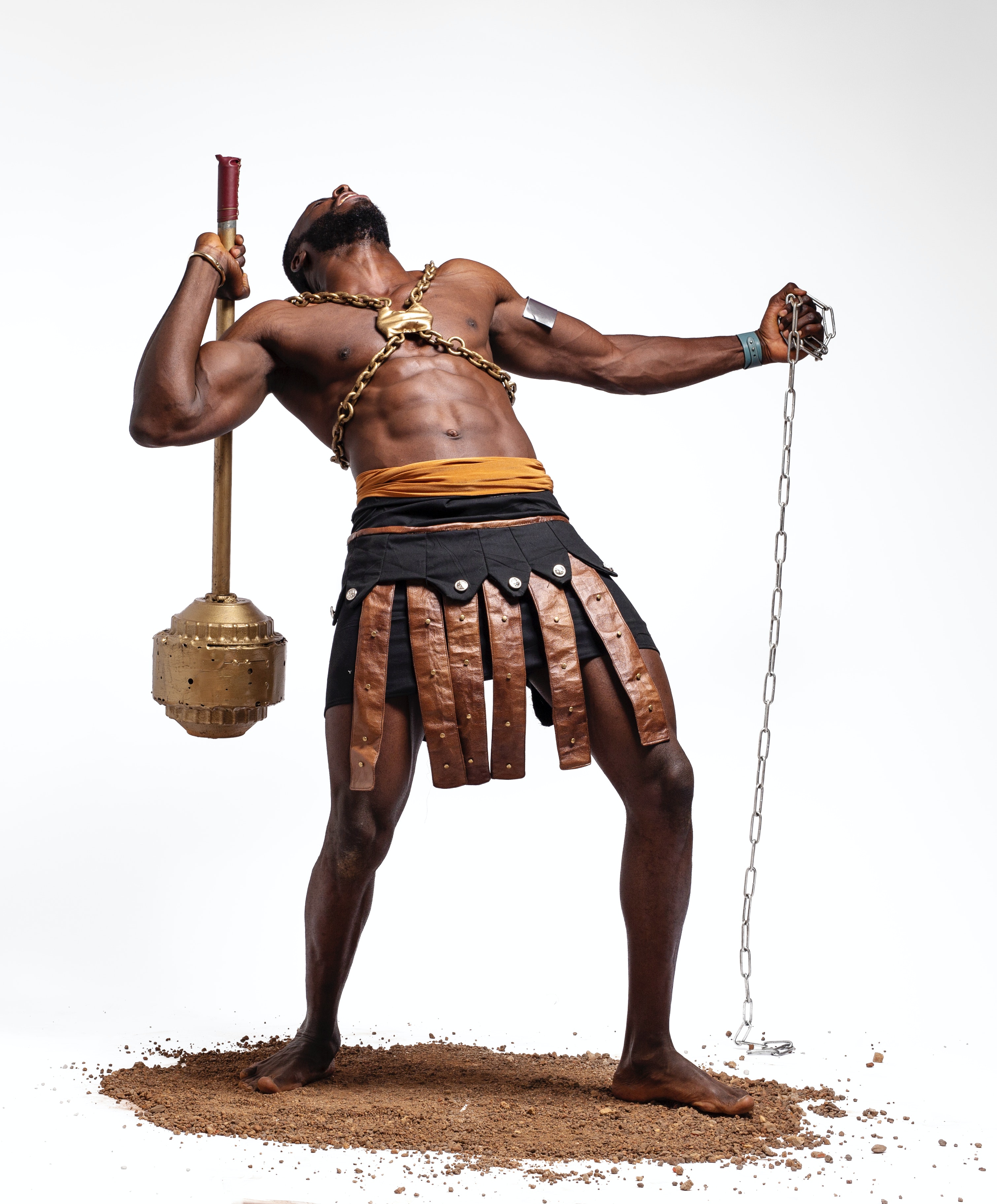 Photo by Kureng Workx
Click here for the English version of the story.
E ngero Luo duto, ngero mar Luanda Magere wuok ka ngero ma nyasani ma nyawinjore kendo ji nya yie go. Kind joluo, mbaka kata ngero mar Luanda Magere ong'ere ahinya. Ma ne mbaka ma nokadho ko wuok kuom jonyuol kata jodongo ma chon ka gi nyiso nyithind gi. Ne en mbaka ma mit to jonyuol ohero gano gotieno .
Ngero mar joluo ni wuoyo e jalweny mager kata sibuor manoong'ere ka Luanda Magere. Luanda Magere ne wuok e anywola ma Sidho ma yudore Kano to iparo ni osega wuotho e bath nam Lolwe. Anywola mar Sidho sani odak msip mar sukari e tiend kite mag Nandi. Luanda Magere ne ng'eny gi teko ma okoyudre e piny kata ma onge ng'ato moramora man go. Pien kata dend Luanda Magere ne olos gi kite. Pala, ofwadhu , ligangla kata osero ne ok nyal hinye kata ng'ade. Ne gitur kata dok ne ng'ama owito gi kuome. Ma nomiyo nobet mager kendo ne ok nyal nege gi ng'ata ang'ata kane en e lweny. Nong'ere e teko ne mar yiecho jolweny magoye te dichiel. Nonego jolweny kata josigu mang'eny ahinya e piny no.
Jo wasigu mar joluo e kinde go ne ginjolang'o kata jo Nandi. Jolang'o nohero lweny mar otieno toLuanda Magere gi joluo wetene nohero lweny mar odiochieng. Jolang'o negocho maber otieno ka ipimo gi kaka negi gore godiochieng. Sama ne ji gore, Luanda Magere ne ineno ka en dala komadho njaga. Ka ne joge ne idhi loo gi Jolang'o, Luanda Magere ne ineno ka okwayo othero ne gi kinga mare. Ka nodhi e pap lweny, ne onyalo nego Jolang'o mang'eny dichiel. Ma nomiyo Jolang'o yie loch ma giwuok ng'wech gidokdala gi.
Luanda Magere ne nigi teko ma Jolang'o ne olwore ahinya. Ka ne Jolang'o odhi elweny to oyudo ni Luanda Magere be nentie e pap lweny, ne gi yie loch ma gidok e dala gi. Luanda Magere ne nyalo dhi e piny mar jolang'o ma okao cham gi jamni kata lee to ne ok giping.. Jogo mane otemo pinge ne inego gi kanyo nikech onge ng'ama ne nyalo nege.
Ka ne josigune temo chwoyo Luanda Magere, gik gi ne tur kata ne bam nikech ne ok ginyal donjo e piene. Mae nomiyo jolang'o penjre gi ma olos godo piende. Ne gitemo kar nyalo gi mondo ginege to ne ok ginyalo. Bang' kinde moro ne gi hao ni Luanda Magere en gir Nyasaye koro onge gimoramora ma ne ginyalo timo.
Jolang'o nool joluo loyo gi pile ka pile. Achiel kuom gi noparo ni ne en gima ber mondo gimi Luanda Magere nyar gi achiel majaber mondo okend. Giko ne negiyudo jaber to giny'iso Luanda Magere ni giyie loch kendo gimiye nyako majaber mondo owe kao jamni gi cham gi.
Tich mane omi nyar lang'o ne en yudo kaka degi loo joluo kata nego Luanda Magere. Jodongo mag joluo ne ong'iso Luanda Magere ni kik oyie kendo nyako no to ne ok owinjo gi .
Gikone podho mar Magere ne owuok kwom nyako no. Samora mora mane Magere tuo, chiege mo okwongo ne ochung' ne range. Koro chieng' moro achiel nobedo matuo, to chiege mokwongo ne onge. Noluongo nyar Lang'o mondo odhii orang yath e bungu to omiye
Bang'e Magere ne ong'ise ni mondo okao pala to ong'ad tipo ne mondo oket yath ma no oduogo go. Nyako no ne obwok ka ne ong'ado tipo mar Magere to remo ochwer.Noketo yath. Mano ekaka ne ofwenyo kumane siri Lwanda Magere nitie.. Odiochieng' no nonenre ka engi paro mang'eny . Onge nga't mane ong'eyo pache.
Otieno no, nyako nopondo ma odok thurgi.Nong'iso jo gi ni siri mar Magere ni e tipo ne. Bange', noringo ng'wech odok ir chuore Magere .
Wach ni ne owuotho piyo e piny Lang'o. Jolang'o ne onge'yo ni Joluo oknyal paro ni gi nyalo kwinyo gi kata bwogo gi nikech Magere ne okendo achiel kuom nyar gi. Ma nomiyo gi bwogo joluo e dier otieno gi lweny.
Joluo ne ogore mager. Magere ne obuok nikech nong'eyo ni Jolang'o ne oseyie Loch odiochieng' mane gi miye nyako ma jaber .Nodonjo e pap gi mirima ma onego jolang'o mange'ny. Ma nomiyo giyiero kwee kendo.Ne giyie loch. Kane Magere ringo mondo oneg Jolang'o moko , achiel kuom jolang'o noparo ni teko mare nie tipo ne. Jal ni noringo ma oidho got kendo orango kuma Magere ne ochung'e.Nowito aseree tipo mar Magere. Luanda ne opodho ma othoo gi kanyo. Jolang'o ne mor ahinya. Ne ginyiero ka gineno jo lweny mar joluo ka ringo nikech ne gi onge nga't moro kaka Luanda Magere .
Bang' tho ne, no lokore kidi kata Luanda maduong'. Yamo matek nofuto e piny mar Kano gi Nandi. Bang'e ne one oro kuom higni ariyo.. Kidi kata Luanda ni yudre e yoo mar Awasi - Chemilil. Jii mang'eny dhii ga nene kaka nyithindr skul , Jo lemo ma nigi yie e kido no kata Jo juogi.. Mo gik , wasunge wuok ga piny gi to biro Kenya mondo gi yud neno Luanda ni.
Join the Lughayangu Community!